Dental surgery: simple or more complex extractions, such as wisdom teeth and bone grafts
The most common surgical treatments – like simple tooth extractions – are done by all dentists at the Smile and Care dental clinics in Grand-Saconnex and Eaux-Vives.
The quality training they receive, along with their proven experience, enable them to handle the most common surgical procedures.
In our clinics, an experienced specialist who practices dental surgery exclusively performs the more complex surgical procedures.
THE MOST COMPLEX DENTAL SURGICAL PROCEDURES:
1. Impacted tooth extractions, including wisdom teeth
Before deciding on tooth extraction, a clinical and radiological examination is carried out. Extraction is necessary when these teeth either don't have enough space to grow in, or if they are improperly positioned. These are called "impacted teeth". There are, however, some cases where the tooth is the source of pain, or where cavities on adjacent teeth also occur.
The infamous wisdom teeth
Usually growing during adolescence, the extraction of wisdom teeth is very common in dental surgery. It is not only recommended in the event of pain, infections, or cavities, but also to limit the risk of dental misalignment and its consequences: cavities, gum disease, or unsightly appearance. This surgical procedure is performed under local anaesthesia.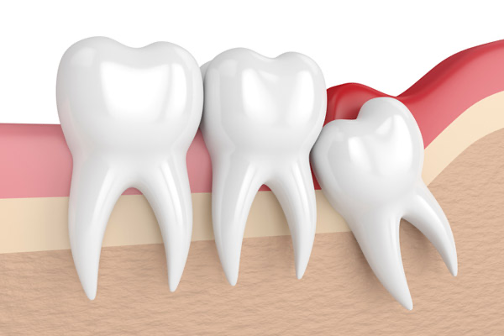 2. Bone grafts, with or without simultaneous placement of a dental implant
An implant involves inserting an artificial root into the jaw bone to reconstruct a tooth. The implant takes the form of a screw. The bone around it must be dense enough to provide support. However, when a tooth is missing, the bone resorbs, making it impossible to insert an implant. In these instances, bone grafts are common.
3. Frenectomies: procedures on frenula, often at the request of an orthodontist
The frenulum is a small fold of tissue that attaches the tongue and lips to the jaw bones. When a frenulum prevents normal tongue mobility, it can be removed – a procedure called a "frenectomy". This procedure is most often performed under local anaesthesia.
Frenum abnormalities can lead to orthodontic problems, such as dental misalignment or a narrow palate. This is why this is most often done at the request of an orthodontist.
4. Cyst resection
A dental cyst is the formation of a small lump (round or oval) inside the maxillary bone, at the tip of a tooth's root. It can either be an infection or accidental.
The most common symptoms are the onset of unusual pain and bad breath. Even if these cysts are benign, they still have to be removed.
5. Endodontic surgery
Endodontics is the branch of dentistry that treats diseases of the inside of the tooth, including diseases of the tooth pulp and dental nerves.
This type of surgery is needed when "natural" endodontic reprocessing is not possible; for example, when a crown cannot be placed or when a reprocessing has failed to heal the infection. Endodontic surgery aims to surgically eliminate the infection first, then to disinfect the tooth by going through the root, not the dental crown.
If you would like to learn more about pedodontics, feel free to contact us to schedule a first consultation : Appointment