ORTHODONTICS AND DENTAL HYGIENE IN CHILDREN: THE WINNING COMBO
Orthodontics in children aim to alter jaw growth. Thanks to an orthodontic device, the teeth are moved into ideal alignment, while supporting necessary functionality, such as improved speech and chewing. Orthodontic treatments can be done on milk or adult teeth.
Orthodontics slow or accelerate jaw growth to ensure the harmonious alignment of teeth. Since children still have malleable teeth, the treatment process is faster.
The different orthodontic treatments available for children

1. Removable dental devices
For children whose adult teeth have not grown in yet, Smile and Care orthodontists opt for removable devices, known as "retainers". These devices can correct multiple dental defects and change the shape of the dental arch as well as move teeth. These devices should be removed during meals and when brushing teeth.
Aligners, another type of removable orthodontic device, can be used for quick and light treatment, or after a fixed dental device is put in, to maintain and hold the position of the teeth. Aligners are transparent plastic moulds that move the teeth if the patient wears them long enough. It is an evolutionary device, as several aligners are adapted and used as the treatment progresses.
2. Fixed dental devices
Fixed devices, such as braces, can be placed on the teeth. Braces are metal brackets glued to the inner or outer sides of the teeth and connected by a metal wire. Braces can also be ceramic. With their colour mimicking that of natural teeth, these have the advantage of being less visible. This fixed device exerts continuous and regular pressure on the teeth, gradually moving them by reshaping the alveolar bone.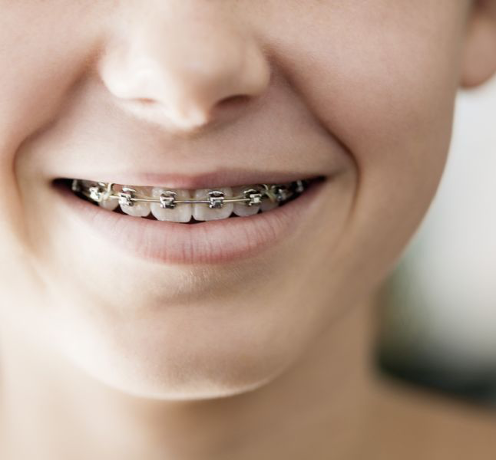 There is also a dental device called "lingual", which is invisible from the outside. In this method, the braces are glued to the inside of the teeth, alongside the tongue.
7 years old: the ideal age for a first orthodontic consultation
The earlier orthodontic treatments begin, the easier it is to correct children's dental problems.
It is advisable to have an orthodontic screening consultation around the age of 7, when children's teeth are mixed – i.e.,  with both milk and adult teeth. This allows the orthodontist to treat or curb any developing issues, potentially avoiding more complex corrective treatment or even surgery later on.
Indeed, this is the age when the first permanent molars grow in, enabling the establishment of the posterior occlusion. At this point, one can already assess the relationship between teeth and jaws, any potential dental or skeletal problems, or functional deviations of the lower jaw. This is also the period when the incisors start growing in and we're able to identify problems, such as overlap, dental rotations, closed occlusion, facial habits, or asymmetries.
Early assessment does not necessarily mean early intervention. Orthodontic treatments are most often done when children are between the ages of 9 and 12. During this period – before growth stops – the jaw is still malleable.
In the more severe cases, orthodontic devices can already start to be used on children between the ages of 4 and 5 – for example, in children whose lower jaw juts out too much. This type of so-called "early" treatment allows optimal results. With that said, starting orthodontic treatments on children so young is rare.
If you would like to learn more about pedodontics, feel free to contact us to schedule a first consultation : Appointment