A perfect smile in 7 steps
At Smile and Care, we treat many patients with the Invisalign technique, which allows teeth to be realigned without resorting to more visible treatments such as braces.
In this article, we lay out the steps to follow for this invisible orthodontic treatment.
Step 1 : First consultation at Smile and Care
The first consultation takes place with our orthodontists in our centres in Sonnex, in Grand-Saconnex, or at the Eaux-Vives station. During this meeting, we will discuss various treatment options and provide an estimate.
.
Step 2: Making the dental impressions
Dental impressions will be made first. Then – using  innovative  techniques – a digital model of the teeth will be  created, as well as a visual  projection of the final aesthetic result. This model  will be used to produce your invisible aligners.
Step 3:  Applying Invisalign anchor points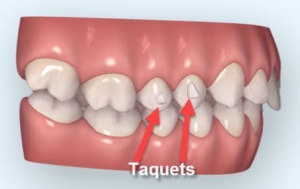 Three weeks later, your aligners  will be  ready. During  the  appointment, the orthodontist will put  anchor points on your teeth; these will ensure optimal hold of your aligners. The orthodontist will provide you with your clear plastic, custom-made Invisalign aligners. The aligners are very resistant – a key element in controlling dental movement. They are provided in boxes; we recommend that you store your aligners in there too, to protect them and to avoid losing them.
Step 4: Taking your treatment seriously
Wearing Invisalign aligners requires daily  discipline. They have to be worn 22 hours a day and only be removed at mealtimes.  You'll need to clean your aligners before putting them in your mouth. To do so, simply use water and – if needed – a dab of toothpaste. Regular flossing is also recommended. During your treatment, you will be assigned by a dental hygienist who will – over the course of the orthodontic treatment – do one or two dental scalings to ensure perfect oral hygiene.
Step 5: Replace aligners every 2 weeks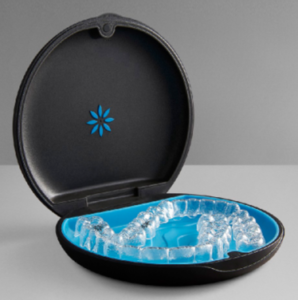 Invisalign aligners are evolutionary. At each appointment, the Smile and Care orthodontist  will give you new aligners; these have to be changed every two weeks. So that the pressure exerted on your teeth is not too great and the result is stable, your teeth are gradually moved – step by step.
For the treatment to be successful, it is essential to wear the aligners all day (barring at mealtimes), and for two consecutive weeks.
Step 6: Final step in the treatment
The end of the treatment is approaching, and your anchor points will be removed.
There will be one more essential step to ensure that your teeth don't move: a retaining wire will be glued directly to the back of the teeth. It is both invisible and painless.
This final step ensures that the results last over time.
Step 7: A brand-new smile!
Once your treatment is done, you'll be able to enjoy your new smile. Congratulations!
If you would like to learn more about the Invisalign technique, feel free to contact us to schedule a first consultation: Appointment