Bespoke dental veneers for a sparkling smile
Smile and Care dental clinics offer different solutions to improve your smile and the aesthetics of your teeth: orthodontics (changing dental positioning), tooth whitening (lightening teeth's existing shade) and composite or ceramic veneers (modification of dental hue and shape).
WHEN IS APPLYING DENTAL VENEERS RECOMMENDED?
Veneers correct tooth colour when whitening isn't enough. They also correct tooth shape, (worn, broken, or small teeth) and slight misalignment (small overlaps, interdental spaces).
Dental veneers allow for a very aesthetic and functional reconstruction and are less damaging than traditional crowns. However, this solution is not always a feasible one, as it depends on dental condition. Indeed, if the defects needing correction are too great, or if the nature or size of the tooth or teeth are unsuitable for this treatment, then veneers cannot be applied.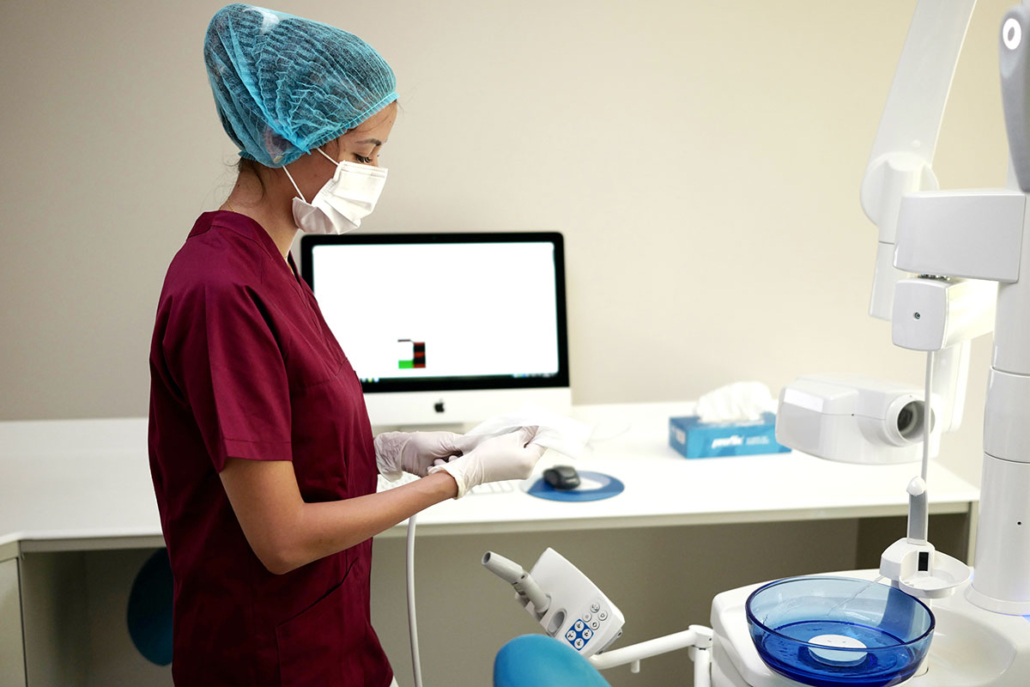 What is a veneer?
Dental veneers are thin shells that cover the front surface of teeth. They are designed to restore stained, discoloured, deformed, or worn-down teeth, while correcting their shape, colour, and size. They offer natural and lasting results.
teeIt is worth noting that this is an irreversible treatment, as it usually requires that teeth be trimmed. The veneers are intended for people seeking to perfect their smile by slightly modifying their visible teeth (canines, incisors, or premolars).
What are the different types of dental veneers?
1. Ceramic veneers
These veneers are placed on the tooth, which has been slightly trimmed beforehand (to ensure optimal adherence of the shell to the tooth). Ceramic veneers must be glued, not sealed, onto the tooth. They are glued away from moisture – i.e., saliva. The surfaces of the tooth must be prepared before the glue is applied. While this treatment is not painful, a general anaesthesia allows for greater patient comfort when applied.
2. Composite resin veneers
These dental veneers require the use of an indirect technique: the dentist makes these veneers after making a dental impression.
The benefits of dental veneers
Veneers have the advantage of greatly improving smile aesthetics. While they do not require special maintenance, they do require impeccable oral hygiene. Teeth should be brushed after every meal, and flossing or interdental brushes used in addition to brushing.
If prone to bruxism (unconscious jaw movements or the grinding of teeth), the patient will have to wear a night guard to avoid damaging the veneers. Veneers have an average lifespan of 10 years, after which time they have to be replaced.
Irreversible treatment
To prevent them from breaking, the veneers have to have sufficient height and thickness. This requires reshaping the tooth. Since the tooth enamel is trimmed to allow the glue to adhere, this treatment is irreversible. Once applied, veneers must therefore be worn for life.
If you would like to learn more about pedodontics, feel free to contact us to schedule a first consultation : Appointment