The smile. Common noun inspiring pleasure and sympathy.  He who says a beautiful smile says a beautiful mouth and… Beautiful teeth! Dental scaling, whitening, orthodontics, ceramic veneers: We tell you how to have beautiful white teeth for a radiant smile.
Today, consulting a dentist goes far beyond treating pain or for an annual check-up. Indeed, there can also be aesthetic reasons. Stained, yellowed, misaligned or damaged teeth have an impact on how a smile looks – and as a result, the face.
Cosmetic dentistry: A specialty in its own right
Even though, today, cosmetic dentistry has become a specialty in its own right, at Smile and Care, these cosmetic treatments are always synonymous with prudence. All our patients seeking dental cosmetic treatment must first undergo a dental check-up to confirm the absence of any contraindications: cavities, periodontal diseases, pregnancy, devitalised teeth, or gum irritation. Once this is done, our Smile and Care specialists will make tailored recommendations.
Cosmetic dentistry to give you back your smile? We offer 4 cosmetic treatments :
1. Dental whitening for a bright smile
Over time, teeth naturally change colour; this can change due to other factors such as heredity, medications, tobacco, or coffee. To restore your teeth to their whitest, thorough oral hygiene and dental scaling aren't always enough. The results of dental whitening are visible in the days following treatment, and last on average 4 years – depending on the patient's lifestyle.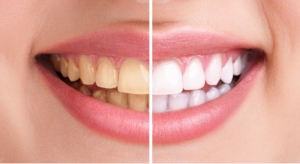 2. Invisalign : invisible orthodontics
Invisalign is an invisible orthodontic technique enabling teeth to be realigned without resorting to more visible treatment, such as braces. Our orthodontists are all Invisalign- certified and are able to provide the appropriate care.
The Invisalign technique involves using transparent aligners that correct misalignments in teeth. The aligners are changed about every two weeks to allow for the gradual straightening of teeth until they are in the final position sought.
The technique's main advantage is its great discretion. Made from transparent medical thermoplastics, the aligners are not only virtually invisible, they are also comfortable. Custom-designed in a soft material, they match the shape of the teeth perfectly. Treatment duration varies.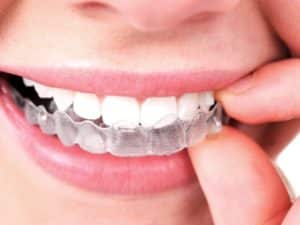 3. Ceramic or composite dental veneers
Placed directly on the teeth, dental veneers cover the latter. Generally ceramic or composite resin, veneers instantly improve the smile's appearance.
The principle is simple: after having lightly prepared the teeth, the dentist glues the veneer – made from dental impressions taken beforehand – on the tooth concerned. The result is ultra- natural, and the tooth on which the shell is attached remains alive. Veneers have an average lifespan of 10 years. This treatment is not painful, but the use of local anaesthesia allows for greater patient comfort during the procedure.
4. Orthodontic treatments : braces, a very precise technique 
Surface stains, caused by coffee, tea, red wine and tobacco, can usually be removed during polishing, which occurs at the end of dental scaling sessions. In healthy individuals with healthy teeth, whitening can change the shade of teeth, with results varying according to the tooth's colour and its response to the bleaching product.
Braces enable teeth to be tightened, spread, or moved forward or backward. They can be made of metal or ceramic materials. Ceramic braces mimic tooth colour, are transparent, and less visible. Today, the materials used in this treatment have greatly evolved: the braces' bracket size is smaller, making them less uncomfortable in the mouth or painful to the lips. More flexible, the wires are generally better-tolerated as well.
These techniques offer remarkable results. Our specialists will guide you to the treatment best suited to your expectations.
published on 23 July 2020